LAMiNATE Newsletter 2023.1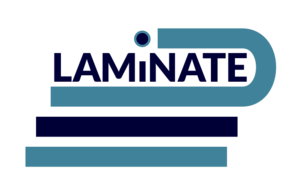 Welcome to the first newsletter of 2023! We'd like to start with a great piece of news: LAMiNATE has received new funds from the faculty for this year! This means that members will have more chances to meet, discuss ideas and create opportunities for collaborations. Find out what we have planned for the spring in this issue.
Happy reading!
Marianne Gullberg & Jonas Granfeldt (Platform leaders)
Maria Graziano & Frida Splendido (Platform coordinators)
Contents
New Outreach Series: "Did you know?"
Coming Soon: LAMiNATE Post-doc
Grant Application Round Up
Recurring Member Events: Talks, Coffees and Writing Sessions
LAMiNATE Membership
Recent Grants and Awards 
Recent Publications

New Outreach Series: "Did you know?"
We are launching a new series of outreach resources called "Did you know?" In this series, LAMiNATE members write short texts (200–300 words) in Swedish for the LAMiNATE website about topics or questions of their expertise that would be of interest to the general public. What kind of questions about language learning, multilingualism and teaching from private citizens end up in your inbox? What questions do people ask at parties when they find out what you do for a living? Those questions would probably be a good starting point for the text you will write!
Start thinking about topic ideas and let us know what you could/would like to write about. We will soon e-mail you with more information.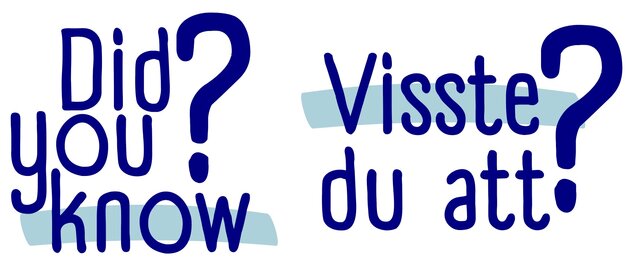 Coming soon: LAMiNATE Post doc
Another great piece of news this year is that LAMiNATE has been offered the possibility of announcing a postdoc position (jointly funded by the Faculty and SOL). The post doc position will strengthen the platform's expertise on data analysis, visualisation, and advanced statistics.
You can count on us to let you know when the advertisement has been published! We hope that you will help us spread it to anyone that might be interested.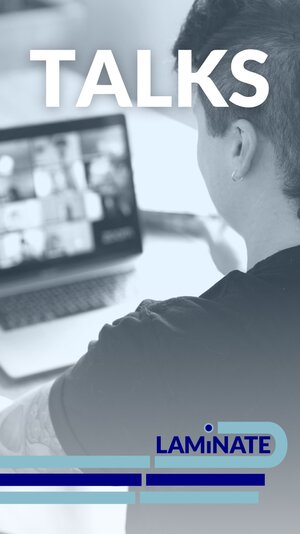 Recurring Events
LAMiNATE Talks
As usual, the talks will take place every other Tuesday, 15.15-16.30 CET. This semester, we host 9 talks given by both LAMiNATE members and guest speakers. There are two thematic sessions: Phonological awareness, language acquisition, and literacy, organized by LAMiNATE member Annika Andersson, and On the importance of socialization for language acquisition, organized by LAMiNATE member Petra Bernardini. 
Most talks will be online, but we do organise some hybrid events when the speaker can be at SOL. For the hybrid talks, we encourage local members to attend on campus if they can.
Complete schedule can be found on our Talks page. Feel free to spread the word; Everyone is welcome to join!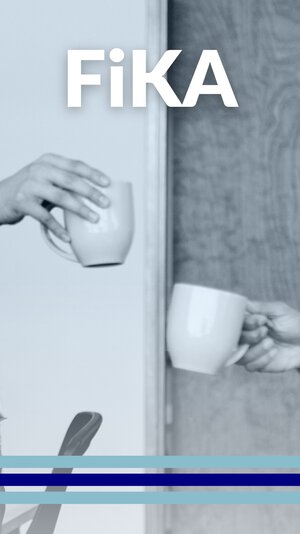 LAMiNATE Fika
One of the aims of our research platform is to be a space where researchers can discuss their ideas and possibly develop collaborations. One way to do this is to meet for a coffee break. So, we invite all members to join our fika at 15.00 every other Tuesday (when there isn't a Talk). Members take turns "hosting" these coffee breaks. Hosting simply means that you come to Fakultetsklubben at 15 to welcome people when they arrive. Sign up to host a fika using the doodle sent out earlier.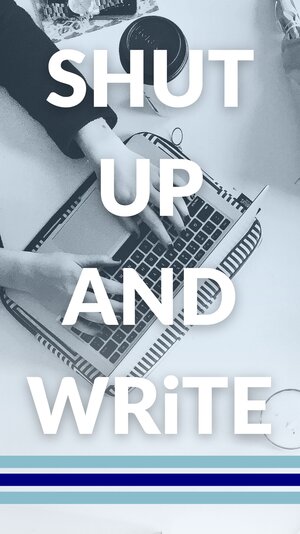 Shut up and Write!
In view of the positive feedback, we will continue with the "Shut up and write!" sessions. These are short sessions where LAMiNATE members get together and then simply "shut up and write". Read more about the idea here. This semester there will be three two-hour writing sessions:
9 March 13–15 (Fakultetsklubben)
29 March 10–12 (Fakultetsklubben)
10 May 10–12 (SOL:L303a)

Sign up to participate by sending an e-mail to Frida no later than 15.00 the day before.

Grant Application Round Up
One of the aims of LAMiNATE is to create a space where members can meet and develop their research ideas through collaborations and ongoing scientific conversations. We would like to round up all LAMiNATE-related grant applications later this spring. Are you applying (or have you applied) for grants this winter/spring? If so, we would like to know. It does not matter if you are the main applicant or not. Send an e-mail to Maria and Frida.

LAMiNATE Membership
Each LAMiNATE member's contribution to the platform is important. Here's a small reminder of what you can do:
actively participate in our activities, such as the upcoming LAMiNATE Talks series, "Did you know," and LAMiNATE coffees;
download the LAMiNATE symbol and use it on slides when presenting on topics relevant to LAMiNATE at conferences and outreach events;
invite colleagues/students to join the Talks series;
link your research output and activities to LAMiNATE in LUCRIS, when these are clearly related to the topics of language acquistion, multilingualism and language teaching. LAMiNATE should automatically appear under "contributors and affiliations"; if not, you can click on "add organisational unit". Do not forget to untick any publication or activity unrelated to LAMiNATE;
host a LAMiNATE Fika;
propose and organize a theme for the LAMiNATE Talks with speakers to invite.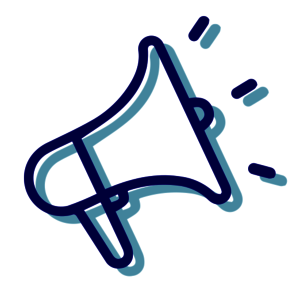 Help us spread your good news!
It is important to promote LAMiNATE members' most relevant activities and achievements. The news page and Twitter are the places we can do this. Send an e-mail with the good news to Maria and Frida. Relevant news items include: new publications, media appearance, plenary talks, grants, awards as well as defenses of MA and doctoral theses that LAMiNATE members have supervised.
Maria Graziano's new grant from the Royal Physiographic Society of Lund. The project is entitled Gesture production when words fail in competent speakers and language learners, and will be conducted together with Marianne Gullberg.
Marie Källkvist and Ewa Bergh Nestlog's new grant from the Swedish Research Council. The project is entitled Disciplinary literacy in primary teacher education and is planned for 2023-2026. PI: Ewa Bergh Nestlog (Linnaeus University).
Jonas Granfeldt, Alastair Henry, Céline Rocher Halin and Joost van der Weijer's new grant from Skolforskningsinstitutet. The three-year project is entitled Motivation in modern languages (MoMS): Developing principled practice through co-designed interventions in three languages. It's led by Jonas Granfeldt (LU) together with Alastair Henry (University West, Lund University), Joost van der Weijer (LU) & Céline Rocher Hahlin (Dalarna University), and it's a joint venture with two upper secondary schools in Sweden.
Congratulations to all successful LAMiNATE members!
Recent Publications
Marianne Gullberg & colleagues' new paper: Berghoff, R., Gullberg, M., & Kootstra, G.J. (2023). Structural priming of codeswitches in non-shared-word-order utterances: The effect of lexical repetition. Bilingualism: Language and Cognition, 1–14. https://doi.org/10.1017/S1366728923000044 (E-pub ahead of print).
Henriette Arndt's new paper: Arndt, H. (2023). Construction and validation of a questionnaire to study engagement in informal second language learning. Studies in Second Language Acquisition, 1-25. doi:10.1017/S0272263122000572
Marianne Gullberg's new paper: Gullberg, M. (2022). Why the SLA of sign languages matters to general SLA research. Language, Interaction and Acquisition, 13(2), 231–253. doi.org/10.1075/lia.22022.gul
Susan Sayehli, Jonas Granfeldt and colleague's new paper: Emotion and motivation in younger learners' second foreign language acquisition. In V. De Wilde, & C. Goriot (Eds.), Individual Differences in Young Second Language Learners (pp. 203-224). (Studies on Language Acquisition; Vol. 65). De Gruyter. doi.org/10.1515/9783110743043-010
Henriette Arndt, Jonas Granfeldt, Marianne Gullberg's new paper: Arndt, H.L., Granfeldt, J. & Gullberg, M. (2022) The Lang-Track-App: Open-Source Tools for Implementing the Experience Sampling Method in Second Language Acquisition Research. Language Learning, 1–35, https://onlinelibrary.wiley.com/doi/10.1111/lang.12555
Jonas Granfeldt, Marianne Gullberg, and colleague's new paper: Jonas Granfeldt, Marianne Gullberg, Carmen Muñoz (2022). Input in study abroad and views from acquisition: Focus on constructs, operationalization and measurement issues: Introduction to the special issue. Read here this introduction to the Special Issue of Second Language Research: Study abroad and input.
Marie Källkvist, Henrik Gyllstad and colleagues' new paper: Källkvist, M., Sandlund, E., Sundqvist, P. & Gyllstad, H. (2022). Interaction in the Multilingual Classroom. In I. Kesckes (ed.). Cambridge Handbook of Intercultural Pragmatics, pp. 836-868. Cambridge: Cambridge University Press.
Marie Källkvist, Henrik Gyllstad and colleagues' new paper: Källkvist, M., Gyllstad, H., Sandlund, E., & Sundqvist, P. (2022). Towards an In-Depth Understanding of English-Swedish Translanguaging Pedagogy in Multilingual Classrooms. HumaNetten, 48, 138-167.
Marie Källkvist, Henrik Gyllstad and colleagues' new paper: Källkvist, M., Gyllstad, H., Sundqvist, P. & Sandlund, E. (2022). Språkpraktiker som didaktiskt kontrakt i skolämnet engelska [Language Practices as Didactic Contract in the Subject of English]. In Nordin, A. & Uljens, M. (eds.). Didaktikens språk: om skolundervisningens mål, innehåll och form, pp. 103-120. Malmö: Gleerup Utbildning AB.
Peter Gärdenfors and colleagues' new paper: Ekström, A., Nirme, J. & Gärdenfors, P. (2022). Motion iconicity in prosody. Frontiers in Communication. doi: 10.3389/fcomm.2022.994162
Marianne Gullberg and colleagues' new paper: Arbona, E., Seeber, K., & Gullberg, M. (2022). Semantically related gestures facilitate language comprehension during simultaneous interpreting. Bilingualism: Language and Cognition, 1-15. doi:10.1017/S136672892200058X