LAMiNATE Newsletter 2022.2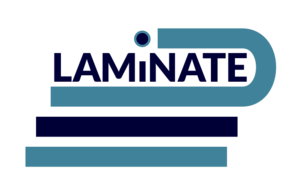 A new semester is just starting and we hope you all had a great summer break and feel ready to get back to business. This issue presents activities planned for this autumn and sums up recent events that involved LAMiNATE members.
We hope to see many of you at the upcoming events and we wish you a great start of the semester!
Happy reading!
Marianne Gullberg & Jonas Granfeldt (Platform leaders)

Maria Graziano & Frida Splendido
(Platform coordinators)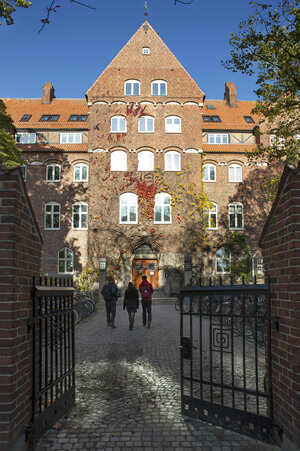 Contents
Future Activities
LAMiNATE Talks
LAMiNATE coffees
Shut up and Write
Grant application
Past Activites
Conferences
Awards
Recent Publications
Send us info for the news page and Twitter
Being a member: participate to our activities & add our symbol to presentations

LAMiNATE Talks
The LAMiNATE Talks series will resume on September 20th. As usual, the talks will take place every other Tuesday, between 15.15-16.30 CET. The talks will continue mostly online, since this gives us the possibility to host international guest speakers; but there will be three hybrid events when local members will present. For the hybrid talks, we encourage local members to attend IRL if they can.
We will host 7 events: two for each of the thematic sessions, Writing and writing development, and Multilingualism and the psychology of language learning and teaching, as well as three individual presentations.
Everyone is welcome to join at the link in the poster.
LAMiNATE coffees
Great ideas can develop from an informal discussion while having a cup of coffee. Now that we are more and more back on campus, we invite you to join us for a coffee break every other Tuesday (when there isn't a Talk). We will send you a reminder and announce where we meet the day before. The first coffee session will take place on Tuesday, 27 September.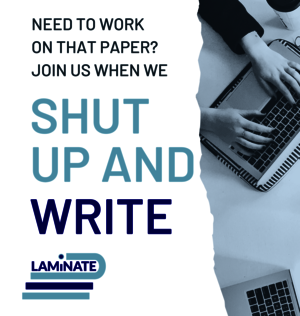 Shut up and Write!
This term there will be three instalments of "Shut up and write." These are, as the title indicates, times where we get together and write. Just bring your computer and join us in Fakultetsklubben. The October and November sessions will be shorter ones (morning or afternoon) but there will also be a full-day writing session in December, when you can join for the full day or as much as works with your schedule. These are our dates for the autumn term:
Wednesday 5 October, 9–12
Tuesday 8 November, 13–15
Thursday 1 December, 9–15
Grant application
As you might be aware, the initial funding for LAMiNATE ends with this year. Marianne and Jonas have already submitted an application to the Faculties in an attempt to secure some short-term funding for 2023.
In a long-term perspective, we are going to start working towards a bigger grant application to be submitted in spring 2023 in order to (hopefully!) secure the continued and sustained life of LAMiNATE. We will need members to get involved in this work and we will come back to you with more details shortly. We were very encouraged by the brain storming session last spring that already generated useful ideas for the future.

Conferences
The in-person conferences are back and LAMiNATErs are participating.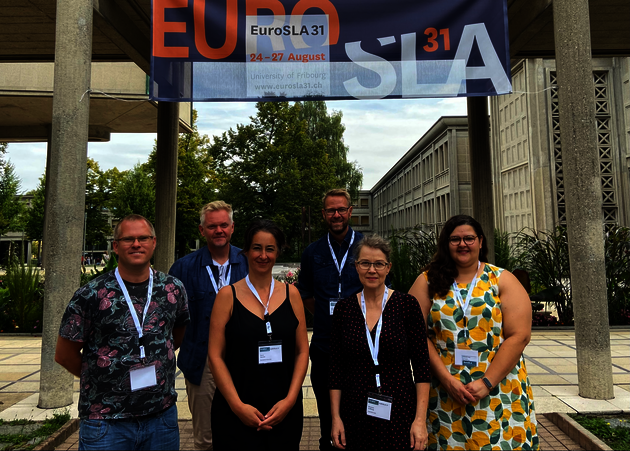 The 31st edition of the European Second Language Association's conference took place in Fribourg, Switzerland, August 24–27. As every year, several LAMiNATErs participated. LAMiNATE presentations got enthusiastic attention and reached a wide audience.
Anders Agebjörn and Susan Sayehli presented a paper on "L3 acquisition of functional morphology: the role of cross-linguistic influence and language-learning aptitude". The turnout was good and the discussion mainly focused on methodological perspectives and consequences of theoretical assumptions on the method.
Henriette Arndt, Jonas Granfeldt and Marianne Gullberg gave a presentation on the LANG-TRACK-APP and its associated methodological developments, the Experience Sampling Method, to an interested audience. The discussion focused on the implications of the LANG-TRACK-APP tools being open-source (i.e. that anyone can add to it by building new features) and many in the audience made suggestions for new features.
An important and recurring section at the EuroSLA conference is its doctoral workshop, where PhD students present their research projects and discuss them with researchers in a supportive context. The PhD students formulate specific questions for the discussion. Acting as a discussant during the doctoral workshop is an important act of service to the EuroSLA community. This year two LAMiNATErs were discussants.
Jonas Granfeldt discussed a paper on the combined effects on language aptitude and short-term memory in language learning. The discussion focused on issues related to suitable ways of analysing the data.
Henrik Gyllstad discussed a paper on psycholinguistic comparison between single- and dual-language switching between languages or registers. The discussion focused on the PhD student's method that she had developed specifically to explore single-language contexts.
In all a very fruitful event! We are happy to be back to in-person conferences!
ISAPh 4
The fourth edition of the International Symposium on Applied Phonetics takes place in Lund September 14–16. LAMiNATErs Mikael Roll and Frida Splendido are part of the organising committee. The invited speakers include Talia Isaacs talking about second language pronunciation teaching and assessment, and Jacques Koreman hosting a workshop on how to create computer-assisted pronunciation training content. More info and programme on the ISAPh 4 website.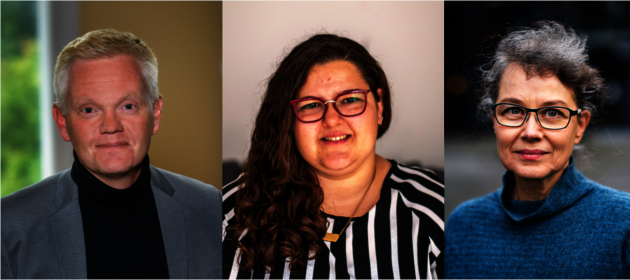 Recent publications
Henrik Gyllstad, Marie Källkvist and colleagues' new paper: Gyllstad, H., Sundqvist, P., Sandlund, E., & Källkvist, M. (2022). Effects of word definitions on meaning recall: A multisite intervention in language-diverse second language English classrooms. Language Learning. doi.org/10.1111/lang.12527.
Annika Andersson and Marianne Gullberg's new paper: Andersson, A. & Gullberg, M. (2022). First language matters: Event-related potentials show crosslinguistic influence on the processing of placement verb semantics. Frontiers in Psychology, 13 (815801). doi: 10.3389/fpsyg.2022.815801. Open access: https://www.frontiersin.org/articles/10.3389/fpsyg.2022.815801/full
Henriette Arndt & colleague's new paper: Henriette Arndt & Heath Rose (2022): Capturing life as it is truly lived? Improving diary data in educational research. International Journal of Research & Method in Education. DOI: 10.1080/1743727X.2022.2094360.
Marianne Gullberg and colleague's paper: Hofweber, J., Aumônier, L., Janke, V., Gullberg, M., & Marshall, C. (2022). Breaking into language in a new modality: The role of input and of individual differences in recognising signs. Frontiers in Psychology, 13(895880). doi:10.3389/fpsyg.2022.895880

Send us info for the news page and Twitter
It is important to promote LAMiNATE members' most relevant activities and achievements. The news page and Twitter are the places we can do this. Send an e-mail with the good news to Maria and Frida. Relevant news items include: new publications, media appearance, plenary talks, grants, awards as well as defenses of MA and doctoral theses that LAMiNATE members have supervised.

Being a member: participate in our activities & add our logo to your presentations
As members, you already know that LAMiNATE aims to build a research community where the themes of the platform are discussed, and collaborations are established or consolidated. Therefore, your contribution in this direction is important. Here's a small reminder of what you can do:
actively participate in our activities, such as the upcoming LAMiNATE Talks series and LAMiNATE coffees;
support and promote the platform, for example by using the LAMiNATE symbol (download here) on slides when presenting on topics relevant to LAMiNATE at conferences and outreach events;
invite colleagues/students to join the platform and the Talks series;
link your research output and activities to LAMiNATE in LUCRIS, when these are clearly related to the topics of language acquistion, multilingualism and language teaching. LAMiNATE should automatically appear under "contributors and affiliations"; if not, you can click on "add organisational unit". Do not forget to untick any publication or activity unrelated to LAMiNATE;
propose and organize a theme for the LAMiNATE Talks with speakers to invite.